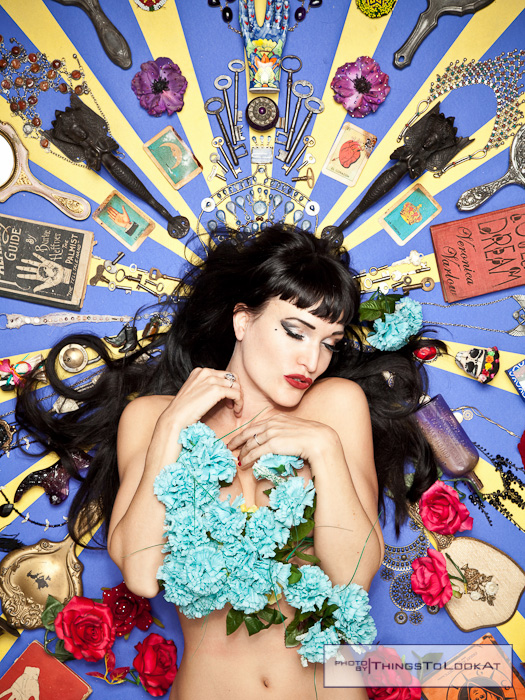 We don't play favourites with our students, but sometimes you have a babe in class who surpasses all of your expectations… And then some.  Veronica Varlow is one of those women.  When we first met, she had a rarely-updated blog which needed some love.  Veronica perched on the edge of the sofa at our very first class in New York City, wrapped in lace and silk with a deep red pout.  Her eyes shined and glimmered as she took notes, and as soon as the weekend wrapped, she was whipping her blog into fighting shape.  Eight months later, she is still mercilessly rocking her blog.
We are super proud of everything she's achieved, and — don't tell anyone — her blog is a Blogcademy headmistress favourite.  We would even go so far as to call it essential reading.  So we reached out to her for a little update on how her blog adventure is going…
Your blog has absolutely exploded with delicious content since we saw you at the very first Blogcademy in New York City.  What did you learn there that inspired you to make such big changes?
Where do I even start?
After trying to blog regularly and failing for almost 10 years,  I now have been blogging consistently and enthusiastically for 7 months straight.  I was able to push through and attempt something I was blocked to do before, solely through my experience at Blogcademy.
From the moment I walked into class, the mood was set for the weekend.  It is a super supportive think-tank of like-minded individuals, eager to learn and to put Blogcademy's lessons to practice.  The information, secrets and tips that Gala, Kat and Shauna shared in just the first half hour were worth their weight in gold to me… And they were just getting started!
Having the unique opportunity  to learn from you and hear the secrets of your success inspired me and motivated me to finally take my own blog and my own writing seriously.  My eyes were opened to the fact that it is way more than just about blogging, it was about uncovering what makes me unique and putting it out there, honestly and unapologetically.  It's about knowing what I want and finding my own voice to communicate with the world.  It's about crafting my own space on the internet, down to the elements of design, the message I want to put out, and the community I want to build.
Getting the secret lowdown on blogging for a living, how to cultivate new, interesting ideas for posts, and insider tips to working social media not only revived my blogging aspirations, but pushed me to the next level.  I was also inspired by the other people who showed up: bloggers from around the world looking to have serious fun. I made some fantastic, lasting connections at Blogcademy.  I left the weekend knowing I had more people in my corner, rooting for me to succeed.
This might sound silly, but in our Blogcademy gift bags there was a little heart glitter ring.  I wore it everyday for the next thirty days to remind myself of the commitment I made to myself to blog regularly and to push myself with my content… To write my own raw honesty, to connect with the world.
What is the overall vision for your blog?  Is it to help build your profile as an artist, to communicate with your fans, or is it something else?
All of the above and then some!
Two years ago, the passion to build my blog was born from tragedy.  In 2011, our home burned to the ground, with the majority of my hard-bound journals that I had kept for 10 years.  I was devastated.  All of my written memories were gone in the ten minutes it took a fire to consume our home.  I am driven to blog online so that my memories will never be destroyed again.
…But at the same time, it's more than that.  My blog has become a project for me to reveal myself in an honest way.  I used to write in journals no one would ever see and express my deepest feelings: my failings, my successes, my desires, my secrets.  I challenge myself to write online what I would have otherwise written in a private journal.I didn't do what I wanted to do in my life for many years because I was afraid of what people would think of me.  Once I pushed past that fear, my world started to open up.  This blog is how I'm doing that through my writing.  There are several posts I was on the fence about clicking "Publish" on… but I always do it.  Yes.  They have caused controversies and backlash but at the same time, those same posts drew compliments and support from the people that I admire the most.  (Thank you, Gala, for supporting and mentioning my "Stripclubs and You: How To Worship at the Temple" post).
We noticed that you're now sticking to a pretty strict editorial calendar, which seems to be working super-well for you!  How does using an editorial calendar for your blog help improve your content?
It helps to create structure for me and familiarity for my readers.  They know on Monday there's magic, Tuesday is How Tos, and Thursday is more freeform… Whatever is on my mind.  Personally, I found that having a format actually makes it easier to come up with new ideas.  I'm always on the lookout for new ideas and material, and when I know that I've got to do a How To Tuesday blog once a week, my eyes become open to all of the "how to" situations in my life.
Your readers are really engaged with what you're writing: they comment like crazy!  Do you have a secret recipe?  Why do you think this is?
3 Things – Hot Relationship, Trust, Throwing in Prizes to Make it Fun.
Relationship/Juicy Communication: The relationship between me and the Danger Addicts (because there are Danger Dames and Dudes who comment) is one of the most important relationships in my life.  There's a billion blogs out there, there's a trillion things on the internet: if they are taking the time to not only read my writing, but then comment and add to the conversation, I'm honored.  There's no other way to describe it.  I'm grateful for them.  They add a whole other dimension to the blog… It's a community blog, rather than just my own thing.  It's a safe space where we all get to have our say. They throw in their tips and their wisdom.
I ask them to do some pretty brave things in the comments that I'm not too sure I'd have the courage to do just 3 years ago. This past Magic Monday, I asked them to put their favorite picture of themselves up and write one word that they would like to be described as below their picture. They did it. There's over 100 comments on the thread right now.
They support each other, and give good feedback to each other. In the past I would have been terrified to put myself out there like that, leaving myself open to ridicule or attack, but the Danger Addicts are fearless. They just put it out there. They encourage me to put it out there, too. I learn from a lot of the comments. We teach each other.
Trust: I made a commitment.  I'll be here every Monday, Tuesday and Thursday… Whether I'm on a tour bus or blogging from the other side of the world, I will find a way, come hell or high water, to have this conversation with you.  I reveal my inner most thoughts and stuff that has helped me in my life.  Sometimes I talk about my wild burlesque NYC life or life on the road.  I talk about dealing with jealousy, going to stripclubs, and ending up in the gutter.  I'll talk about gut-wrenching self-doubt to feeling like a Queen.  I trust them with my heart and my thoughts.  And in return, they trust me with theirs.  It sounds intense, but that's how my life is.  I'm an all or nothing kind of girl.
Throwing In Prizes To Make It Fun: I offer necklaces I make or love letters or postcards or Skype "Dates" as an incentive for people to comment and put their truths out there.  It works and it also makes it interesting.  Everybody loves prizes.  And if that's an extra push for them to put their picture up with "Fearless" written below it for someone else to see and be inspired by, then hell yes… I'm going to offer the damn incentive.
When it comes to your blog, what are you most proud of?
Sharing things I'm not proud of.  Being honest.  Showing up.
What's the most valuable thing you took away from The Blogcademy?  Would you recommend it to your best friend?
The most valuable thing is that through what I learned at The Blogcademy, I have been able to break my own boundaries, push through my own obstacles… And FINALLY…. Have a widely read consistent blog that I am proud of.
This happened through all of the secret and insightful tips the three of you shared on how to make our blogs as unique as we are as people.  Asking the questions:  "What do I have to offer that no one else does?  What is something unique about me and my life experience that will help my blog stand out and be recognized?"  That and then learning the process of making our blogs an "experience" through design, feel, fresh content and visuals.I would absolutely recommend it to my best friends and have (they'll be taking it in NYC this weekend)!  I've gushed to anyone who will listen… And I think the fact that I'm still blogging 7 months later and building a rapidly growing committed readership is testament to the inspiration, knowledge and support that Blogcademy has given me.
How would you like to expand or improve your blog in the next 12 months?  In your wildest dreams, how would your blog look and feel next year?
I would love to add more interactive elements.  The comments are a great way to have conversations, and I can say a lot with my writing, but I want to do more vlogging and hosting live chats on the site.  I want to continue to get it out there more to the world.  My partner-in-crime Burke Heffner and I are headed on a massive cross country road trip to film our feature movie, Revolver, that we wrote, and I am looking forward to blogging the experience as I go.  I want to meet readers at 2am in some 24 hour diner over pancakes, I want to have meet-ups at abandoned road side attractions from the 1950s.
If Jack Kerouac were alive today and blogging… What would that look like?  That's an inspiration for me.   I want to make my blog this spontaneous, fun experience where all of us can interact and affect each other on this wild road of life.  That's my dream.