The Blogcademy Online
One weekend to transform your business.
Your blog is your calling card - What does it say?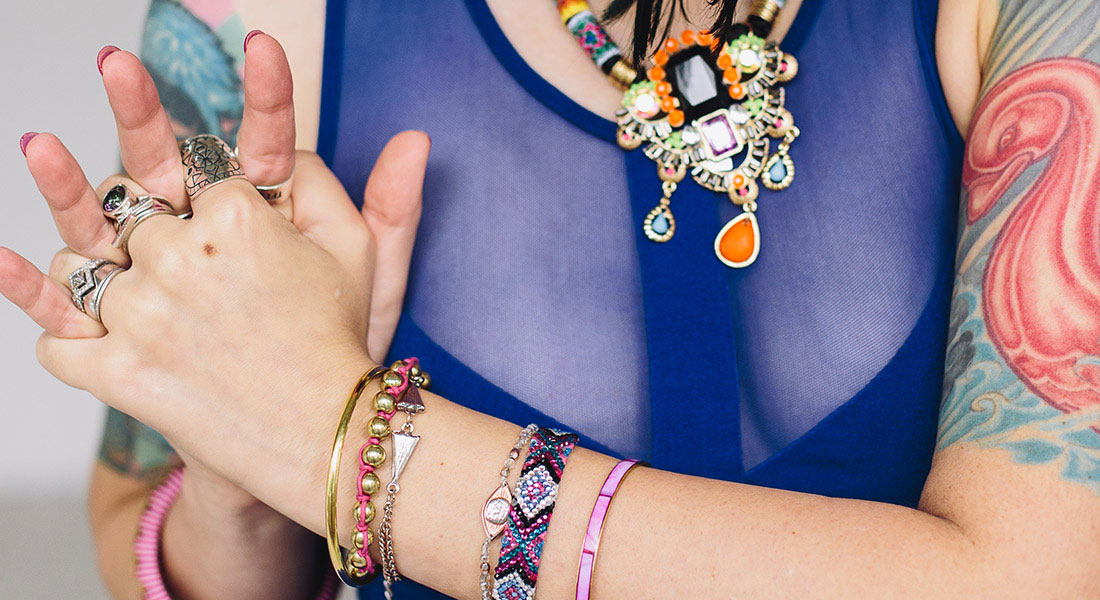 Do You Dream About...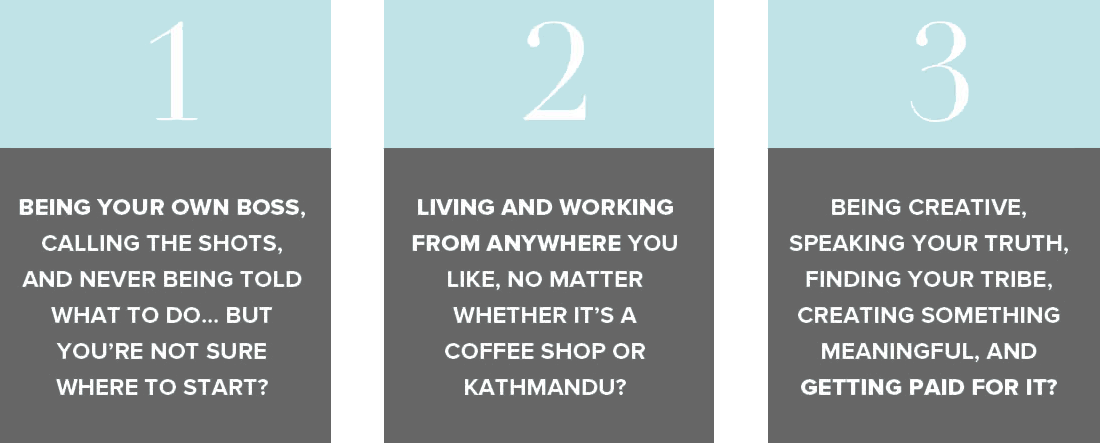 We hear you, and we understand. Having the freedom
to run your life on your own terms is the modern dream,
and it's a dream we're living.
But The First Step To Living The Life You Want
Is Honesty. So It's Time To Be Truthful.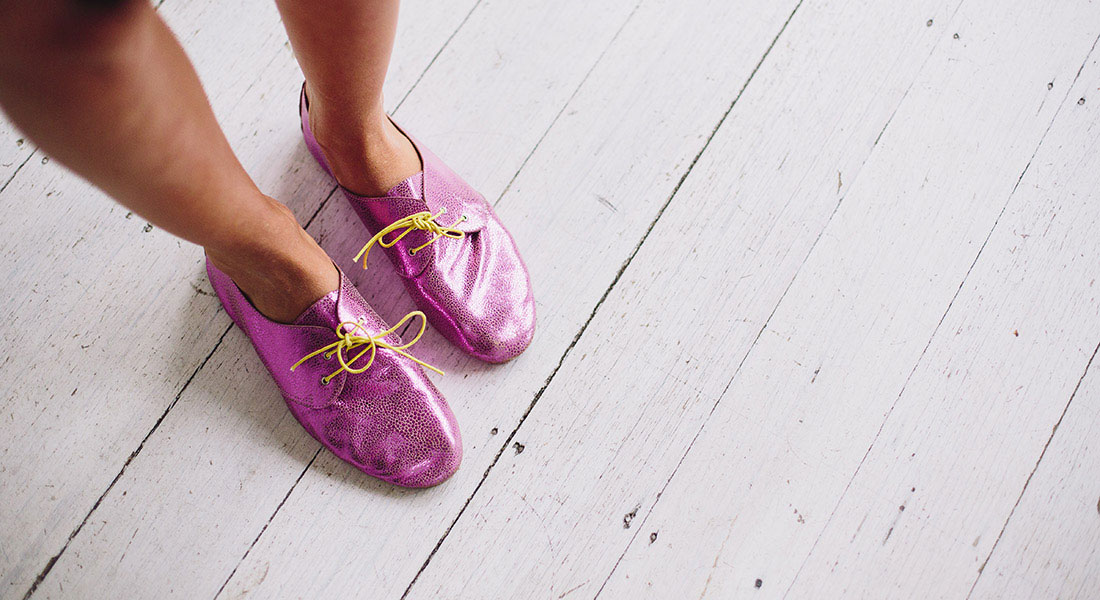 Do You Feel...
Stuck in an almighty rut, paralysed by a fear of the unknown?
Baffled by online jargon, and perplexed by all the technical terminology?
Like there is a story inside you that's aching to be told?
Desperate to discover your unique voice, and anxious to know whether your story is even worth sharing?
Like an outsider? Do you find it difficult to find people who "get you"?
Unclear about what you're trying to create online, and how to find your audience?
Like you're not sure what the point of a blog is? Are you ready to throw in the towel and delete all your social media accounts?!
Unsure about what the next steps of your blogging trajectory should be?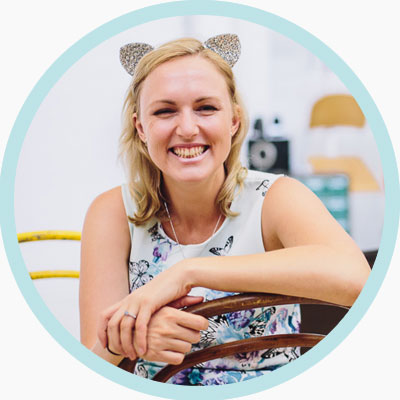 Don't worry! We can help you get unstuck. We can help you make money, make waves, and live your passion. In fact, we've taught close to 1,000 women exactly that.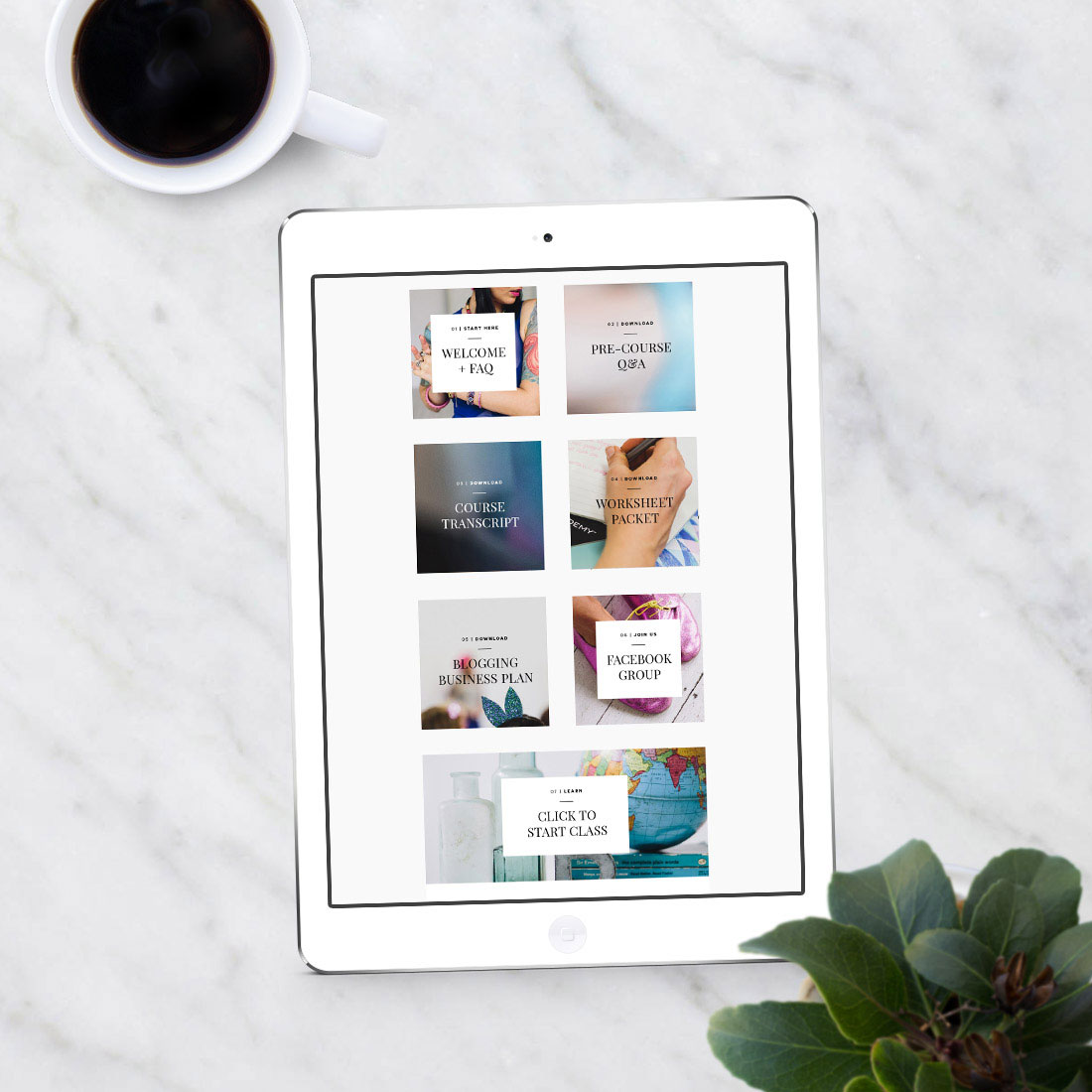 It's Possible To Step Up Your Blogging Game.
From Home. Right This Second.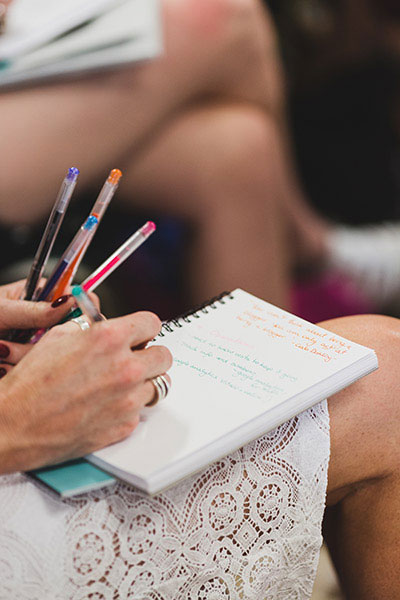 We've spent the last two years travelling the world, teaching 1,000 women (and a few token men!) exactly how they can use their blogs to create the lifestyle and business they've always dreamed of. Now we're bringing the lessons right into your living room!
Blogging isn't just typing words on a screen: It's about learning to communicate from your heart. It's about sharing something real and grabbing the attention of your tribe, whether they're babes like you, or your ideal customer.
You might be the best at what you do, but if you're not blogging about it, you don't exist. It's essential to have a well-groomed web presence, and that's exactly what we teach.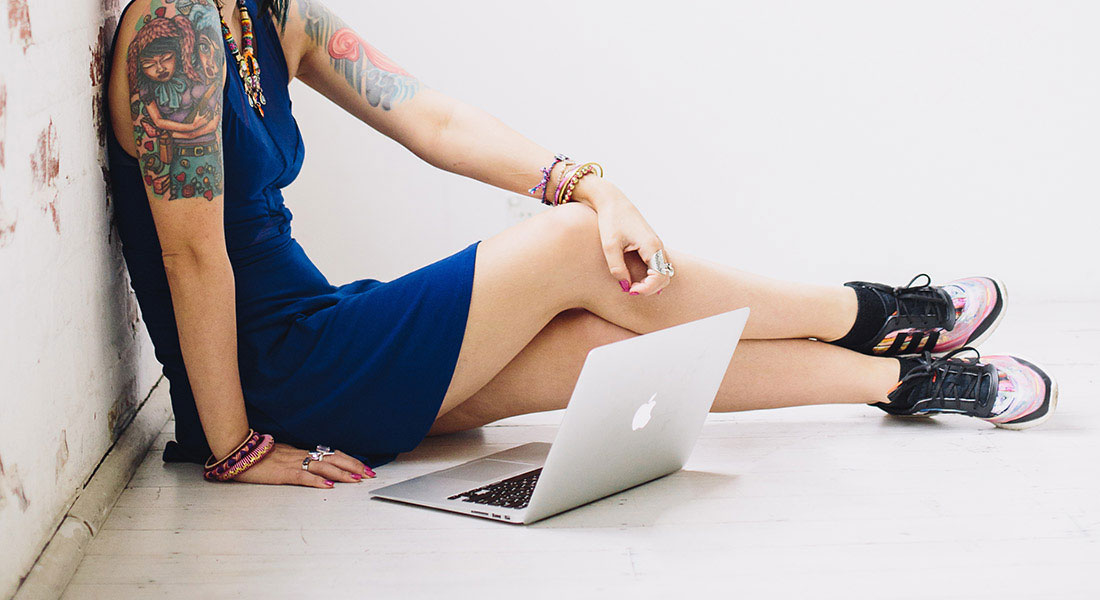 Online Success = Real Life Success.
The only snag? Online success requires strategy, insight, technique and talent. Crossing your fingers and praying for an audience is not a strategy!
In one weekend, we cover absolutely everything you need to know to get your blog off the ground, and show you how to make it sing. It's an invaluable experience, and it changes lives.
But you're a busy babe, and we totally understand that. You may not have the flexibility in your lifestyle to take two days away from it all, and that's exactly why we created Blogcademy Online. With Blogcademy Online, you have instant access to our entire two day class, and best of all? You can watch it anytime!
Unlike other programs which limit your use, we believe that learning is forever. That's why you can watch our videos, download our worksheets, and refresh your memory as much as you want, whenever you want. Blogcademy Online gives you lifetime access.
And you won't be alone. In addition to our entire two day class, you get invited into our exclusive Facebook group which is packed with enthusiastic female entrepreneurs just like you. They will help you brainstorm, give you support, and keep you on track. That's priceless.
If you want to flourish online, this
is one class you shouldn't skip!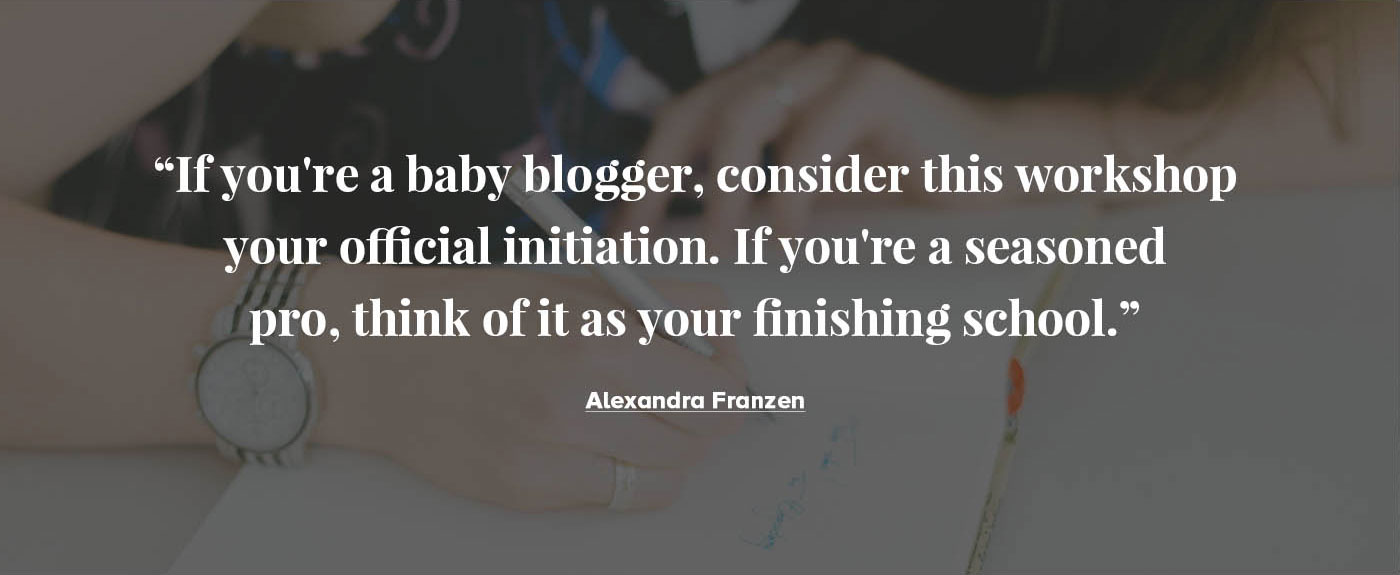 Join Our Live Workshop From Home.
Three Reasons Blogcademy Online Works: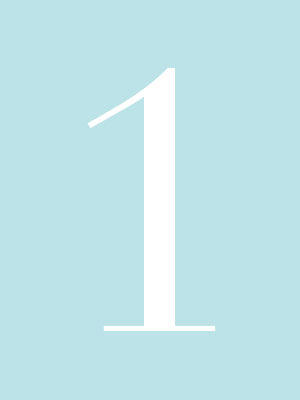 Blogcademy Online Makes Learning Easy.
No matter how busy your life might be, with 24/7 access to our videos and worksheets, you can always find time to learn. You can hit pause and come back later, or do one lesson a day... It's totally up to you.
With Blogcademy Online, you can easily go back and re-watch a section. There's no limit on the number of times you fill out a worksheet. Time can be tight, and as entrepreneurs, we know that all too well! It's essential that your learning fits around your lifestyle, and with Blogcademy Online, it does.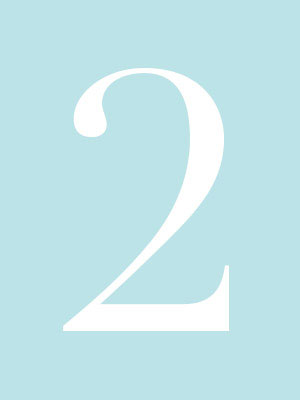 Our Lessons Are Instantly Actionable.
Let's be real: we know you lead a busy life. You don't have time to sit in a classroom... But you also don't have time to figure everything out on your own.
We make it easy to learn with a combination of videos and worksheets, so you can apply our years of experience to your online presence immediately.
Our sections are information-packed yet succinct. Our digital worksheets drive key points home. Everything we recommend is designed to get you where you want to go... Quickly.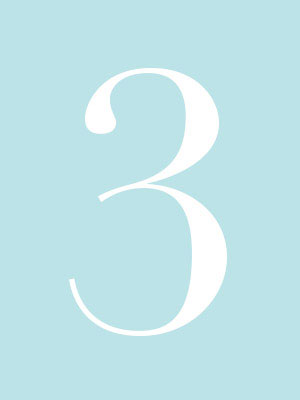 Our Students Get Results.
What's the point in learning if you never implement? We're proud to say that our students have gone on to kick major ass in the online world. They've raised $100k on Kickstarter, left boring corporate jobs, and created incredible, thriving businesses.
We'd love for you to join our esteemed alumni and experience the transformational results of The Blogcademy for yourself.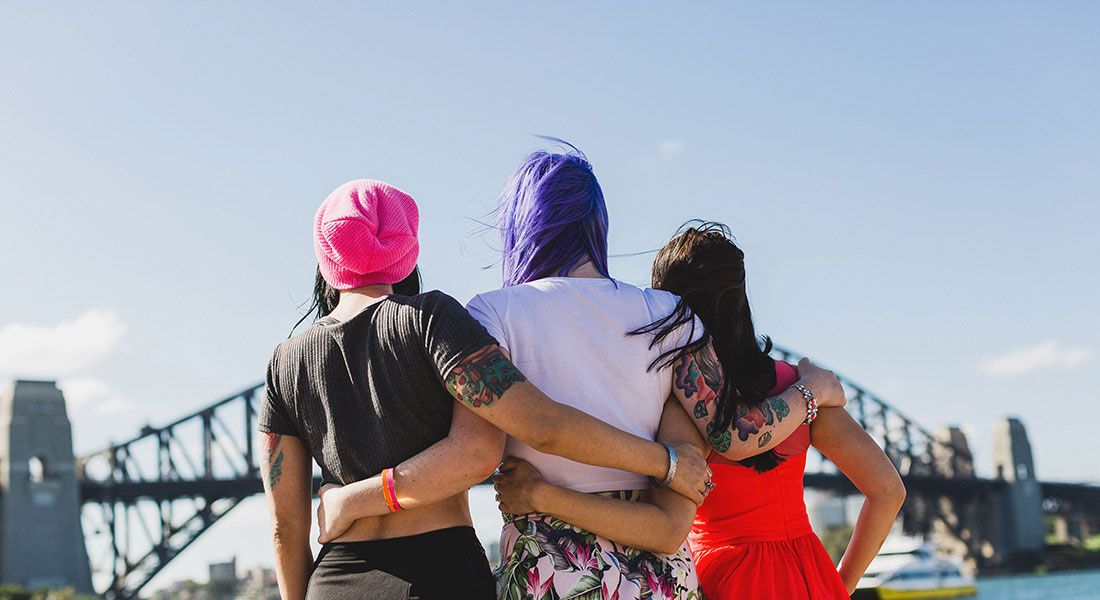 Since Starting Our Blogs, We've
Had The Opportunity To...
Build our audiences into active, thriving communities that span across the globe
Work with Fortune 500 companies (and be paid accordingly)
Travel the world - for free - on fully sponsored press and media trips
Be approached by a publisher to launch a self-titled magazine
Win dozens of industry awards
Sell over 100,000 digital products and courses
Feature prominently in dozens of major media outlets, including The New York Times, The Guardian, Cosmopolitan, Computer Arts, Teen Vogue, Grazia, Marie Claire and The Sunday Times
Be interviewed as experts on primetime television
Develop our businesses to the point that we have become the primary breadwinner in our homes
Shoot with first-class photographers in exclusive locations all over the world
Meet like-minded women and develop the strongest friendships we've ever had
Build 6 figure businesses... And we started on laptops!
Stay in five-star hotels (and not foot the bill)
Work with celebrities, industry leaders, and (legitimate) royalty!
Walk in Betsey Johnson's show at New York Fashion Week
Transform our businesses and create and develop multiple product lines (even sold in Anthropologie!)
Fly first class to London and back
Be dressed and styled by some of our favourite designers
Speak to crowds of thousands all over the world, from Germany to Australia, and even Palm Springs
Get on first-name basis with magazine editors all over the world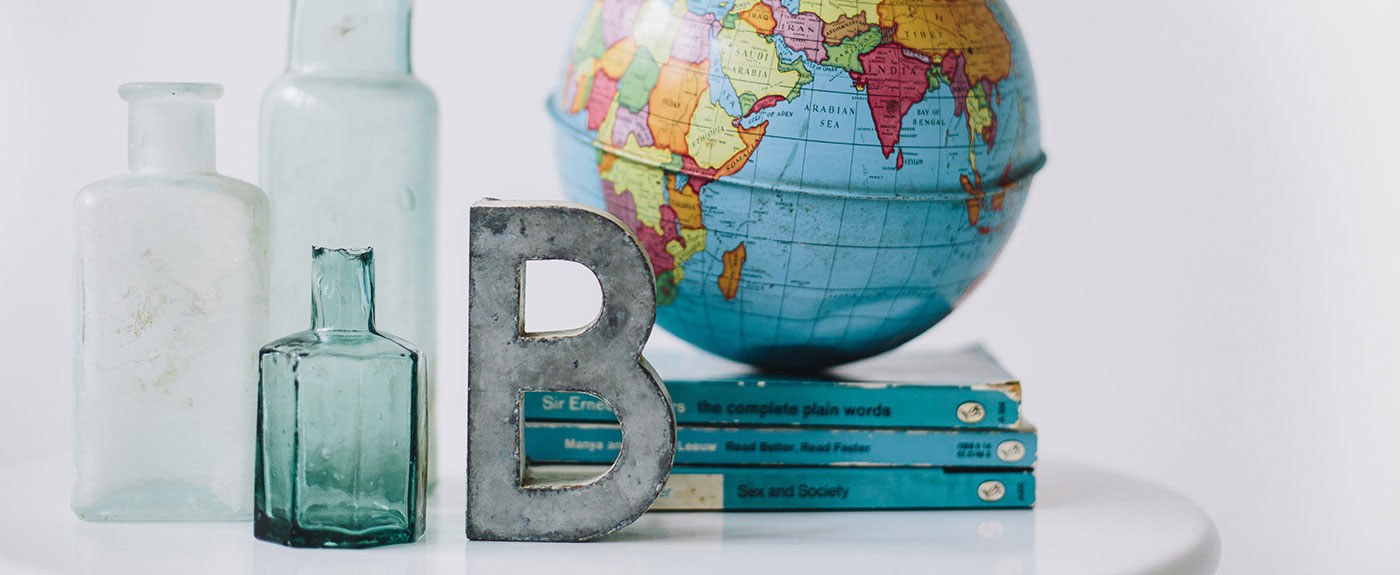 How Does Blogcademy Online Compare To Our Other Blogging Programs?
1. There Are Three Of Us, And We Each Built Our Businesses Independently.
In addition to having totally different business models, we each have our own unique perspectives on how to create a successful business. What does this mean for you? No matter what kind of business you're running, you'll see how many roads lead to success. This is totally Choose Your Own Adventure: pick and choose what resonates most, and then run with it!
2. We Have Over 30+ Years Of Collective Blogging Knowledge That We're Delighted To Share With You.
We've been there for every stage, from LiveJournal to Instagram, and we've always managed to evolve, stay relevant and remain profitable. We want to show you how to do that too. The platforms might change, but the lessons are evergreen.
3. Authenticity Is Our Jam.
We commit to showing up fully on our blogs. One of our greatest joys is meeting new people and having them tell us we're just like they imagined. It proves that we're walking our talk. You'll discover this in Blogcademy Online.
4. We Have Something For Every Type Of Learner.
Video lessons, transcriptions, activities, prompts, and worksheets ensure that you'll take our lessons and run with them. We believe in implementing! We can't wait to see what you do next.
5. You'll Receive Immediate Access To Our Thriving Online Community, Fit To Bursting With Amazing Entrepreneurial Women Just Like You.
The support, encouragement, and advice that flies around is unparalleled. You won't find this anywhere else!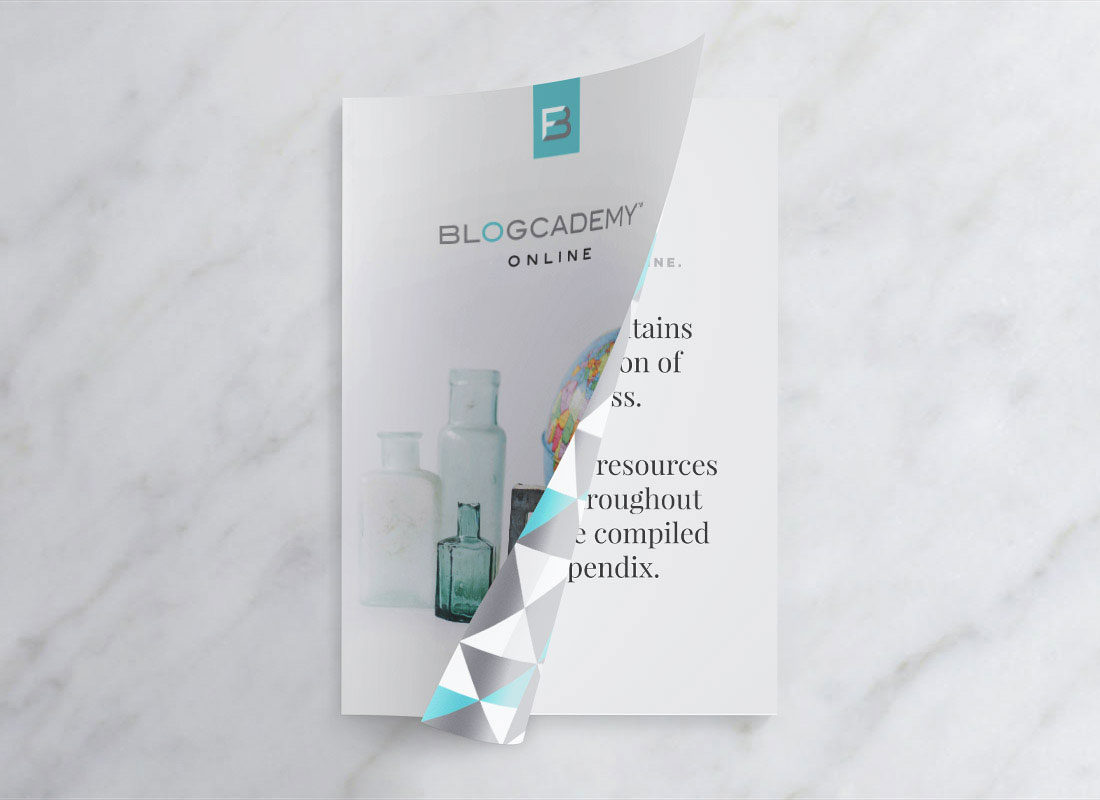 How Does Blogcademy Online Differ From Our Other Products?
It's simple! Click below for an easy to use chart which walks you through our different programs, showing you the features and benefits of each. You're sure to find the perfect fit for your learning style... And budget!
Don't Just Take Our Word For It...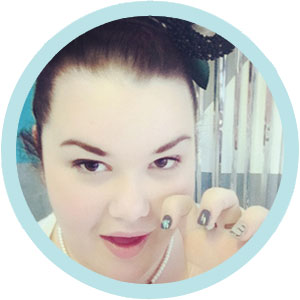 "I don't think I learnt as much in a year at Uni as I did from The Blogcademy girls in two days. That's where I think The Blogcademy really shines, we were given real life scenarios and case studies and things were explained in perfect detail. It is blatantly obvious that the three lovely teachers know what they are talking about because they have lived and breathed it for years."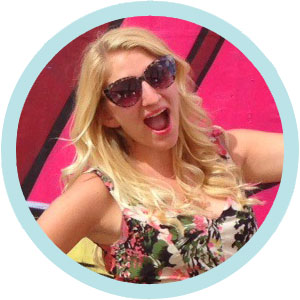 "When I initially booked in for my training, I was concerned about the cost - but I left utterly satisfied, and genuinely convinced that the time, effort and sheer volume of actual applicable, real-world advice that you packed into our little London jaunt was worth its weight in gold. The result: I feel so well-equipped with the guidance I need to take my blog to lofty, Eiffel Tower-ish heights, and invigorated and energized to get my butt into gear and do it!"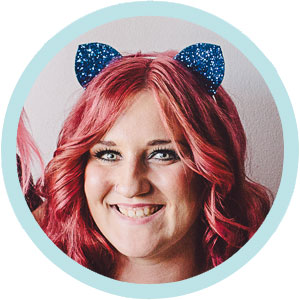 "Everything you've ever read about The Blogcademy is true. It does change your life. You do walk away feeling overwhelmed with excitement and inspiration. It is totally fucking fabulous. Gala, Kat and Shauna are just as magical as you think they are. And they have the capability and drive to match the exceedingly gorgeous sparkle that seems to trail behind them wherever they go."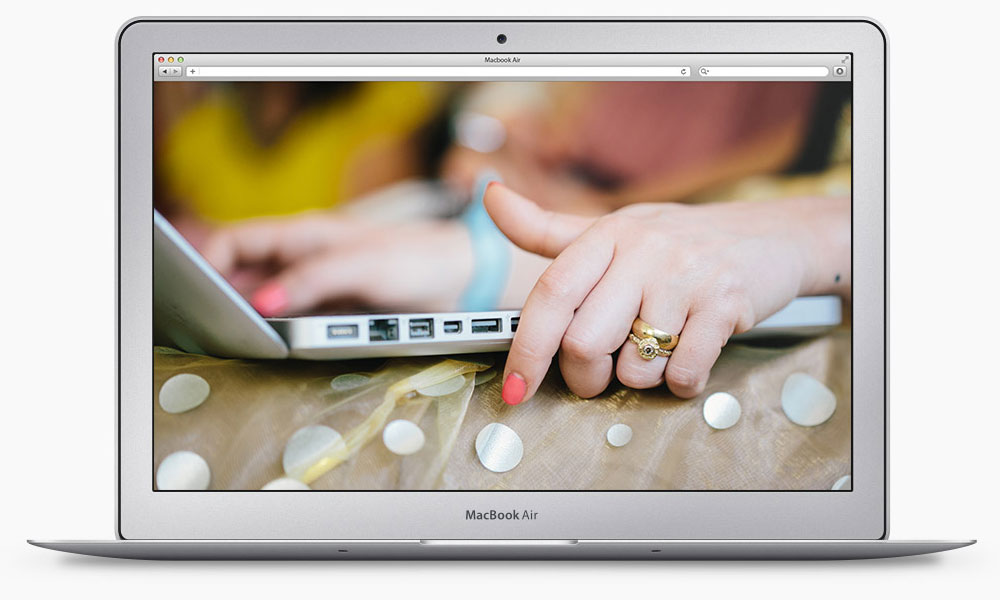 What's Included In Blogcademy Online?
Over six hours of video lessons, broken down into bite-sized modules.
Our 18 modules are packed with easy to digest, actionable information that you can watch whenever and wherever you'd like!
A 300 page transcript of the entire class.
Think of this as an enormous how-to-blog bible!
24 pages of action-packed worksheets and activities.
These will help you implement everything you've learned.
A huge list of resources.
Access our blogging black book of every single book, tool, website and professional we personally recommend. This is priceless! Every single online resource we mention in class is hyperlinked in the back of the workbook - just click and go!
Life-time access, baby!
The course is yours to keep. You can login, watch, and re-watch the lessons as many times as you like!
An absolutely insane amount of know-how and encouragement.
With over 30 years of collective blogging experience, we really have done it all. As a blogcadette, you get the opportunity to learn from our mistakes... And our successes, too!
Access to our private Facebook community.
There are currently over 300 Blogcadettes in the group, and it's growing every single day. The forum is full of helpful, supportive bloggers and entrepreneurs. It's the ideal place to ask for advice and to be among people who 'get it'!
A pre-course worksheet.
You'll receive this immediately, and it will help you assess where your blog and business are now. Clocking in at a walloping 14 pages, this will allow you to get a firm fix on where you are, and where you can improve.
An exclusive 22-page Blogging Business Plan.
You can use this as a roadmap to chart exactly where you want to go, and how to get there!
A pack of inspirational wallpapers.
These are perfect for printing out and hanging by your desk, or for using as your computer or phone background.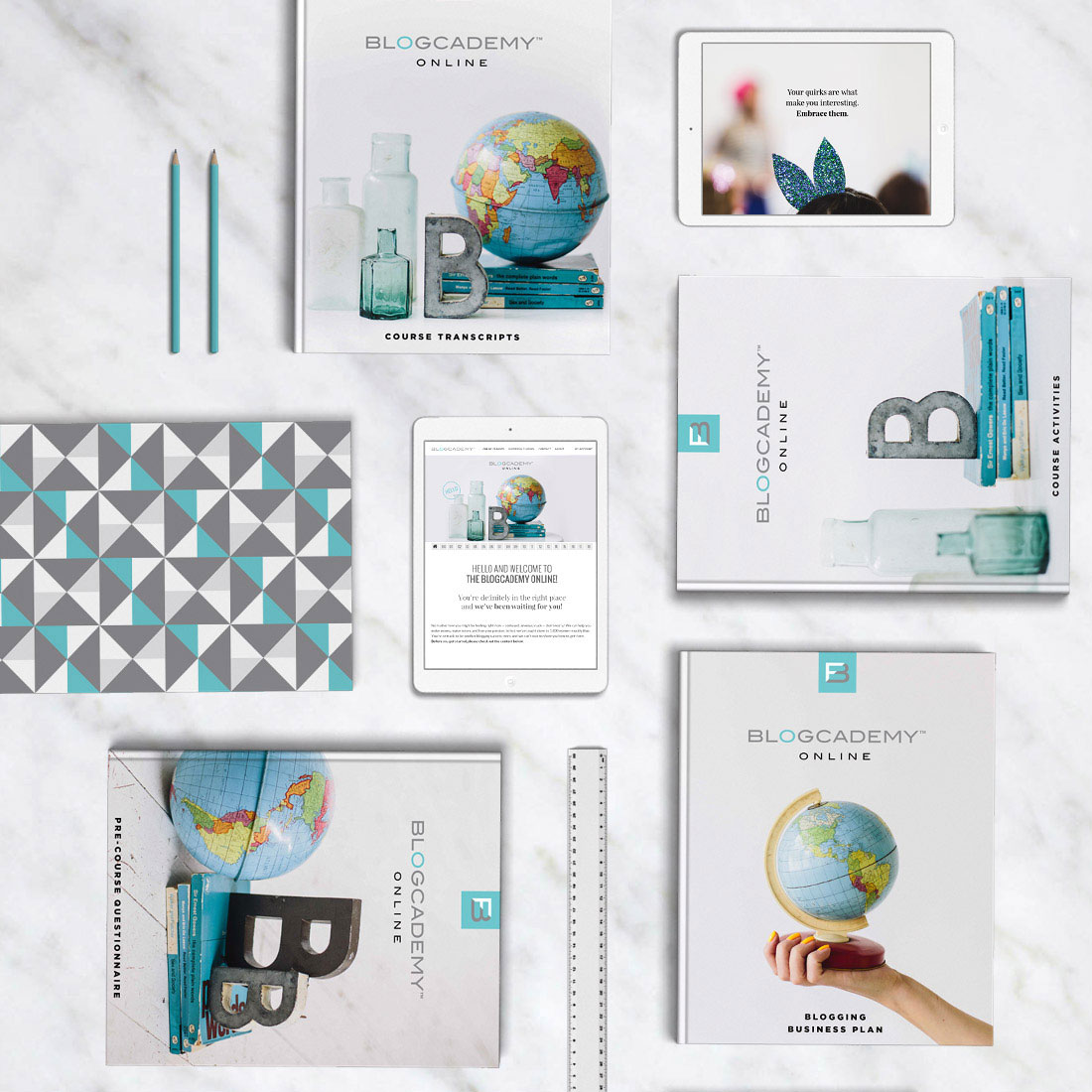 What Will I Learn?
1. Formatting basics.
Why do blogs look the way they do? We discuss the importance of great imagery, give you some easy-to-follow layout rules, and tell you our top tips for optimising your search traffic.
2. Blogging business plan.
If you don't know where you're going, how will you know when you get there? We'll go through your blogging business plan in detail, covering the executive summary, vision, market and marketing, operations, team, and finances.
3. Discovering your ideal reader.
Why do you need to know who your readers are? We'll help you to define exactly who they are, which makes creating content so much easier!
4. Crafting your about page.
What should you include on this essential page? We tell you exactly what to address, discuss your story, talk about the importance of attracting and repelling, and will help inspire you to create a manifesto for your blog or business.
5. Defining your blog's purpose.
Why do you need one? We also talk about the key factors that distinguish a successful blog from those that never really get any traction. How can you create content to attract a particular audience? We'll share our secrets!
6. Creating killer content.
What should you be considering when you develop content for your blog? We discuss our secret formula for posts that get reach. We also talk about the importance of being vulnerable, our top five blog posts of all time (and why they were so successful), creating regular features, and why consistency is so important.
7. Consistency.
What does it mean to audit your blog? You're about to find out what a blog audit is, how it can help you, and a step-by-step guide to doing it yourself!
8. Social media.
It doesn't have to be a mystery (or a chore!). We'll tell you how to engage and grow your followers, as well as how to master Twitter, Instagram, and Facebook.
9. Networking.
Why is networking so important for bloggers and small business owners? We'll teach you how not to dread going to events or meeting new people, how to talk to people you don't know, how to be memorable (for the right reasons!), and even how to organise your own networking events.
10. Branding.
What is branding, and what is marketing? What's the difference between the two, and why are they equally important? We tell you the essential steps to creating a charismatic brand, and give you our top branding resources. What's the golden rule of branding? Just you wait! We show you slick blog design examples, where to find a professional-looking Wordpress theme, and how to find a developer or designer. Then we discuss brand colours, coming up with a name for a business or product, trademarks, and how to gather brand inspiration. We'll think beyond the logo with lock-ups and wordmarks, before telling you how to grow your brand, share our trusted sources, and tell you all about one-sheets and media kits.
11. The Blogcademy case study.
We'll tell you the full story of The Blogcademy, and how we grew it from an idea we had on one trip to Las Vegas, to a powerhouse six-figure business in less than a year!
12. Still Life 101.
Why is it important to show your life in images? We talk about product styling, how to share your life in an authentic way, and why you shouldn't take too many selfies! We also give you our best tips for taking beautiful, still life photos.
13. Advertising.
Is taking on advertisers right for your blog? We tell you the most important things you need to consider before you take the plunge! We discuss what you should charge, and the different options for hosting adverts. In addition to covering affiliates, we also share Rock n Roll Bride's media kit, and give you a step-by-step guide of what to include in yours.
14. Brand collaborations.
Let's talk about money, honey! How can you turn your blog into a real money-spinner? We talk about how to work with -- and get paid for featuring -- companies and brands on your blog. We discuss what makes a good sponsored post, and give real life examples of our own sponsored posts that have been a huge hit.
15. Business documents.
What's a bid form? What do you need to include on an invoice? This is essential stuff that will help you get paid!
16. Income diversification.
Is it possible to make money from something other than advertising? The answer is, of course, YES! We show you how to sell your own services or products on your blog, discuss writing for, or getting featured in, magazines and newspapers, and talk about digital products: what they are, how you can create them, and why you should sell them! We also cover how to get a book deal, and the resources you'll need to get there!
17. Image usage.
Can you just use any old photo? Definitely not! We share our sources for finding imagery for you to use on your blog or website, as well as show you how to credit the photos you use, and how to find original photo sources so your blog is as beautiful as you are!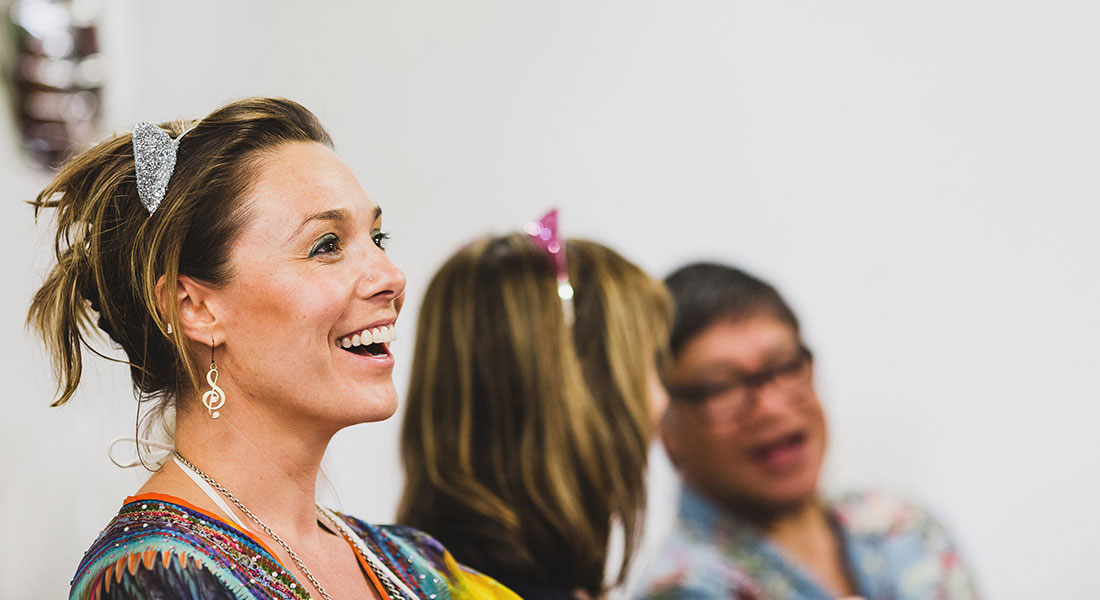 It's A Lot Of Information, Sure. But Best Of All?
The Blogcademy Works.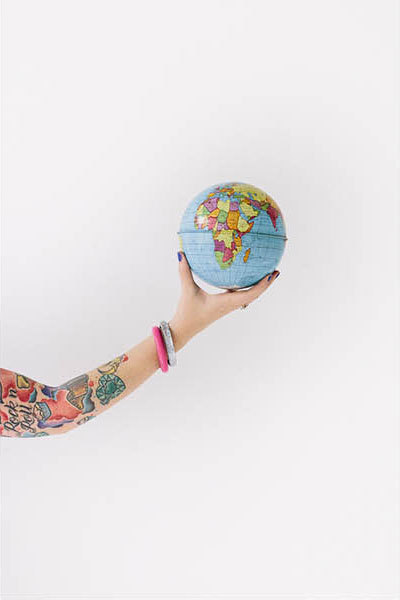 Our blogcadettes have gone on to raise massive amounts of capital, start their own businesses, get sponsored for overseas travel, and eke out a name for themselves in a competitive online world. You can, too. It all starts with knowledge.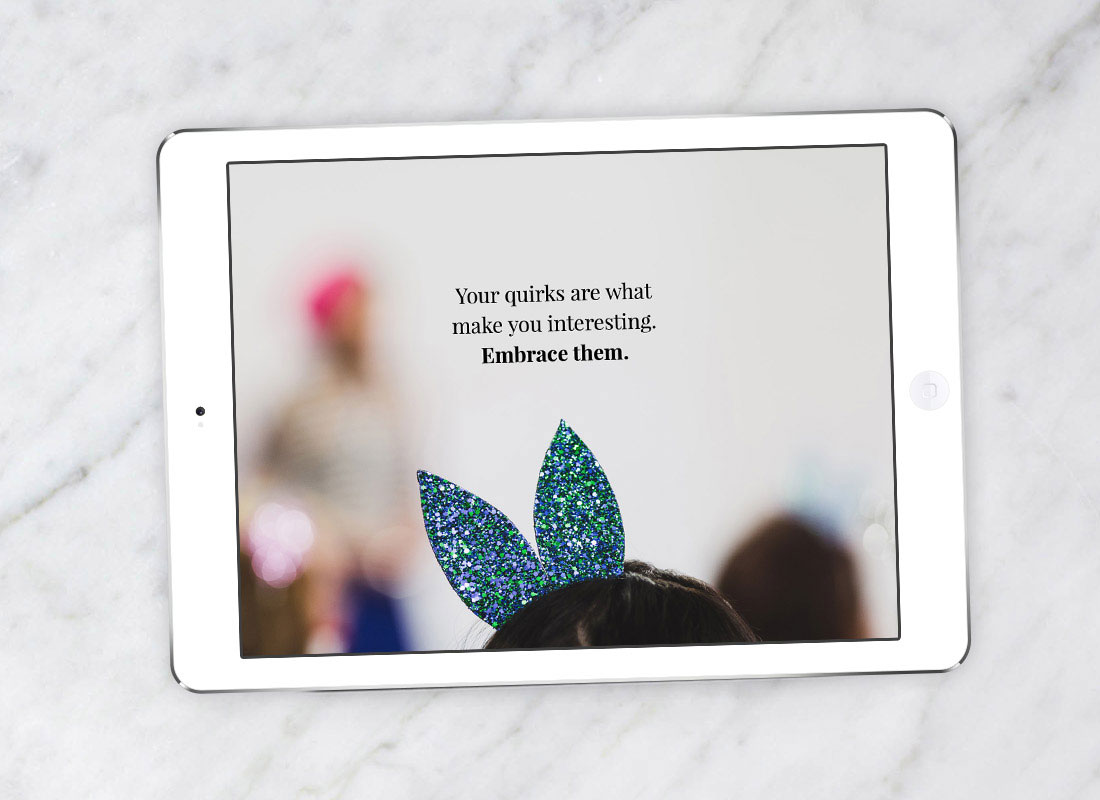 This Course Is A Good Fit For You If:
You can't attend our live workshop, either because your lifestyle doesn't permit it, the timing isn't right, or you live in the outer reaches of Mongolia!
You prefer to learn at your own pace. You like being able to replay lessons, fill out worksheets under your own steam, and generally do things - in the words of The Princess Bride - "as you wish".
You're an impatient learner, and you want to get right to the good stuff! With Blogcademy Online, you have the ability to skip right past the lessons that don't feel relevant right now (and you always have the opportunity to go back to them later).
You simply enjoy being in your pyjamas too much to come to a live class!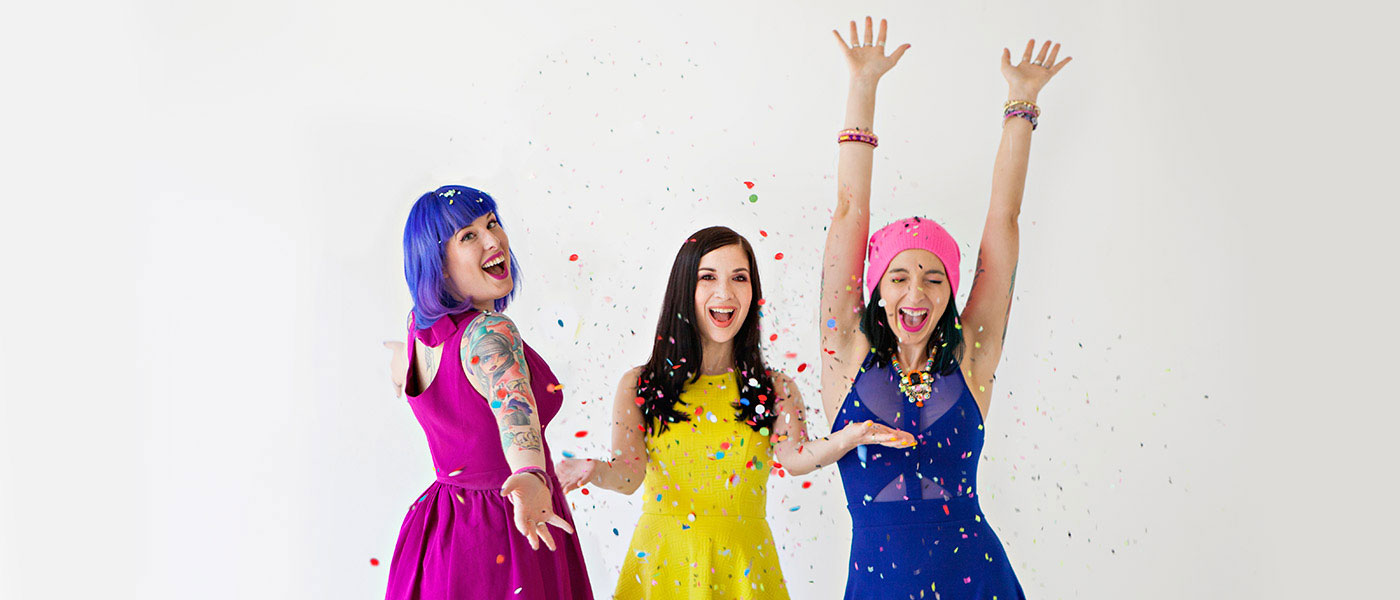 Meet Your Headmistresses
Kat, Gala, and Shauna are on a mission to help bloggers and entrepreneurs create an infectiously awesome online presence. Blogging doesn't have to feel like just another chore on your to-do list: It can also be fun and profitable! The online version of their best-selling workshop (with over 25 sold-out classes across 3 continents) will show you the way. With their own businesses and blogs going strong (and a list of Fortune 500 companies they've personally worked with), you're sure to get the latest scoop. Your headmistresses speak from personal experience and dish out advice straight from the heart - no business jargon allowed.
Got Questions Before You Buy? We've Got Answers!
Transform Your Blog... And Your Life.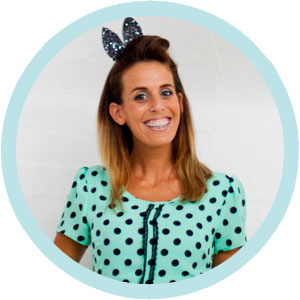 "Thank you so very much for a triple dose of mega inspiration, motivation and sharing your wisdom with us all. I absorbed SO much info it's not even funny. My brain is bursting at the seams with ideas and inspiration. Your style of teaching is wonderfully energetic and interesting and broken down so perfectly I could digest it properly. I wish you were my math teachers. I'd have aced that shit."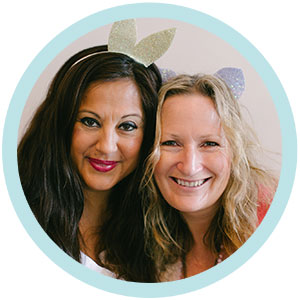 "I am deeply renewed by The Blogcademy, I feel like I have been woken from a long slumber. After being in business for 15 years and attending numerous courses and conventions, The Blogcademy is a refreshing burst of bright light in the business world. I will always be truly grateful to Kat, Gala and Shauna for re-electrifying my life, my soul and my business. Each of you embody the magical energy to help others reach deep to find their true-selves and inner voices along with our secret inner bad assery!"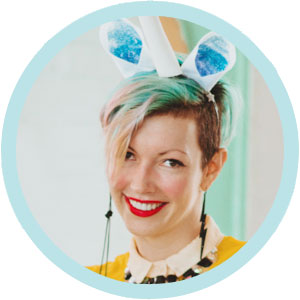 "Improving my blog has been a serious goal of mine and as much thought as I put into it, I never felt like I was ready to take action; I was overwhelmed with all I wanted to do and didn't know where to start. After The Blogcademy, I feel like I have a roadmap to achieving the goals I had previously set forth for myself AND more knowledge and motivation to stretch my goals even FURTHER. The tools provided in the workshop and in the forum are invaluable, as well as the connections made with my fellow blogger babes!"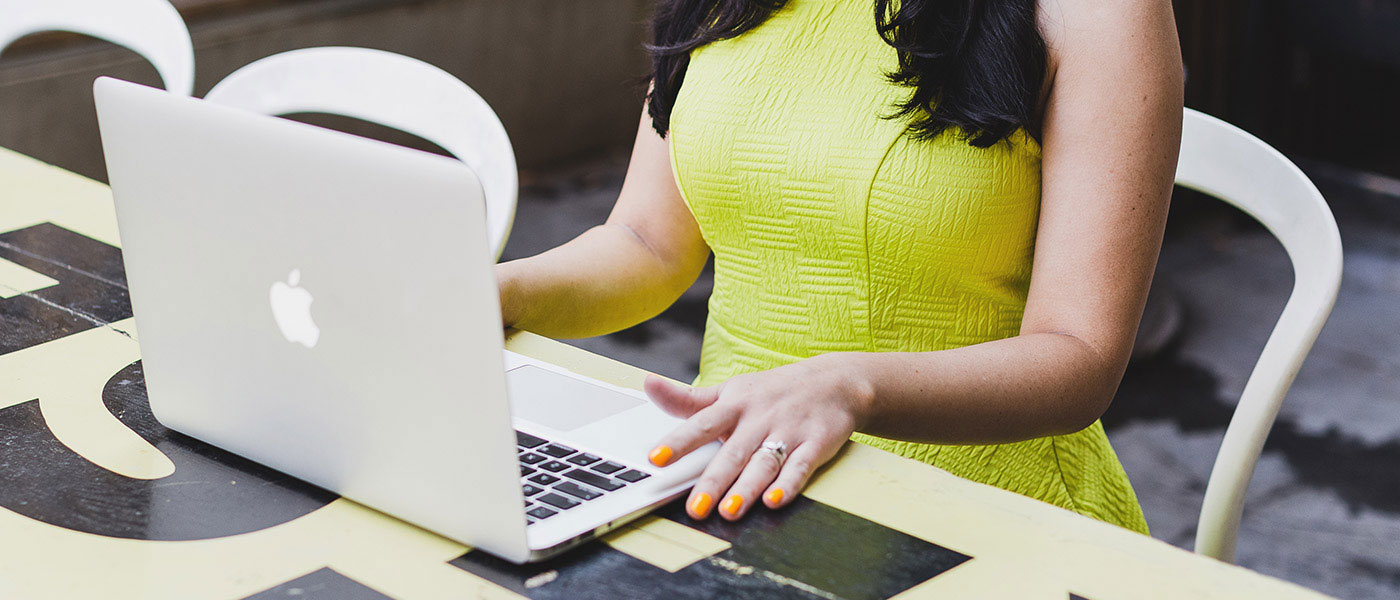 Are you ready to take charge of your blog?
Blogcademy Online is all yours for $497 or
two easy installments of $250.
Buy now