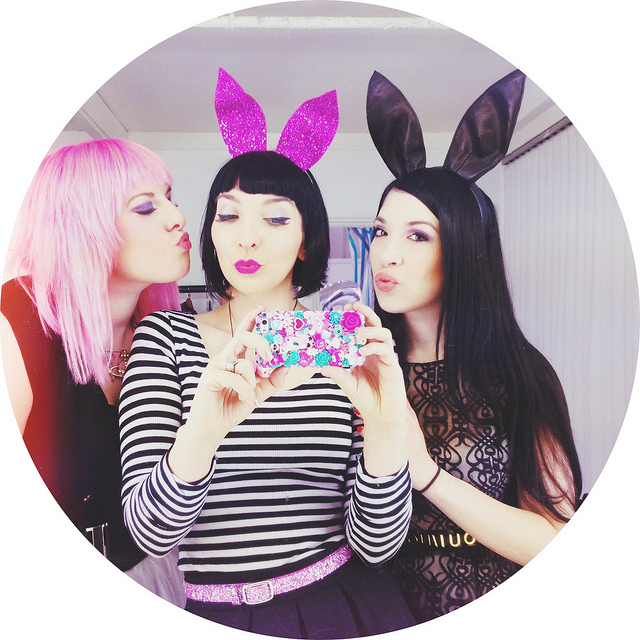 Your intrepid headmistresses will be reunited next week, so to celebrate, we're throwing a little online party… And you're invited!
At 1pm PST on Wednesday the 27th of March, our Blogcademy Livestream will be coming to you direct from Portland, Oregon!
This is the perfect opportunity to get the skinny on what really goes down at The Blogcademy, because we'll be answering your questions.  Yes, you're in charge!  What do you want to know?  We're at your service!  This livestream will be 100% steered and directed by you.
For example…
Do you feel stuck with your blog, or you're just not sure what to do next?
Are you wondering what your niche is?
Not sure how to make yourself stand out in a veritable SEA of internet personalities?
Are you on the fence about using your blog to make money, or don't know how to do it?
Do you have blogger's block, suffer from apathy or a crazy lack of inspiration?
Are you pulling your hair out because you don't know how to manage your time?!
Would you like to use your blog to support your business… But don't know how?
The recipe is simple: just buy a ticket, and then let us know your questions!  You can email them or tweet them through, whatever is easiest for you.  We'd be thrilled to answer 'em!
If you're not sure if The Blogcademy is for you — or if you simply can't swing the cost of a ticket right now — this livestream is a great taste of what we're all about.  We will be giggling, telling stories, talking about our blogging experiences and showing you how easy it all can be!
Your ticket gives you access to the recording of our livestream, so if you can't watch it while it happens, you can see it immediately afterwards… And forever after!
Oh… And I almost forgot to mention that we're giving away one Blogcademy goodie bag to one lucky viewer!  You'll get a damn good-looking tote (your pick of L.A. or Portland custom design!), packed to the brim with fabulous things: sparkly bunny ears, jewellery, shoe clips, accessories, and of course, a copy of our Blogcademy magazine!
It's all pretty sassy, really.  You don't want to miss out on this!  Click here to buy your ticket!
Can't wait to (digitally!) see you next week!
Excitedly,
Gala, Kat and Shauna.